Venturimeter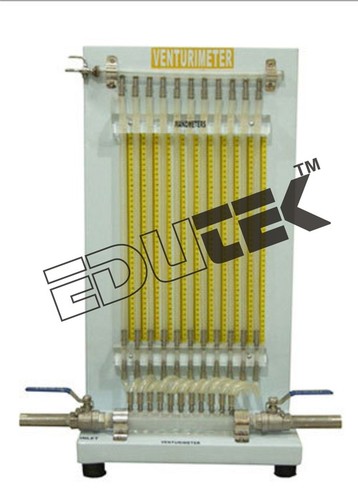 Venturimeter
Product Description
Venturimeter
An educational Venturi tube that allows students to study the Venturi meter and Bernoulli's Theorem and to make direct comparisons between the results obtained by experimentation and those predicted by theory.
A Venturi meter is used to determine the flow rate of fluid in a pipe. Venturi Meter is comprised of a horizontal Venturi tube, a downstream flow-control valve and eleven pressure tappings connected to water manometers (piezometers). A common manifold above the piezometers includes an air pressure control valve.
The inclusion of eleven piezometers allows study of the pressure distribution along the convergent-divergent passage within the Venture tube.
The is designed for use with the Gravimetric or Volumetric Hydraulics Benches (available separately). These benches measure absolute flow rate which can be used by students to find the Venturi meter coefficients over a range of flow conditions.
The Venturi meter is a device used to measure the flow rate. As shown, it consists of a tapering contraction section, along which the fluid accelerates towards a short cylindrical throat, followed by a section which diverges back to its original diameter.
As velocity increases from the inlet section to the throat, there is a fall in pressure, the magnitude of which depends on the rate of flow. The flow rate may therefore be inferred from the difference in pressure, as measured by pizometers placed upstream and at the throat.
The device is used to determine the discharge coefficient or the Venturi meter coefficient (C).
This value lies between 0.92-0.99 and varies from one meter to another.
Contact Us
Factory: 70, Edutek House, Main Road Vikaspuri, Industrial Area, Ambala Cantt, Haryana, 133006, India
Phone :09996644855