Two Stage Axial Flow Fan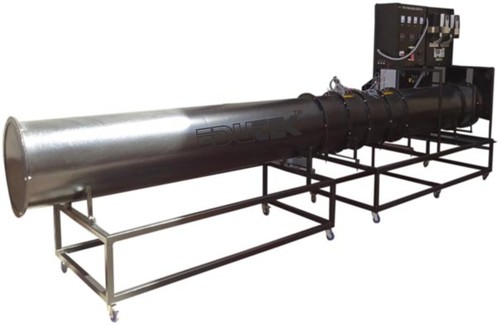 Two Stage Axial Flow Fan
Product Description
Two Stage Axial Flow Fan
Description of Two Stage Axial Flow Fan :
An axial fan is a type of a compressor that increases the pressure of the air flowing through it. The blades of the axial flow fans force air to move parallel to the shaft about which the blades rotate. In other words, the flow is axially in and axially out, linearly, hence their name. The design priorities in an axial fan revolve around the design of the propeller that creates the pressure difference and hence the suction force that retains the flow across the fan.
Specification of Two Stage Axial Flow Fan :
2-stage axial fan
l x w x h: 5225 x 970 x 1800 mm, 250 kg.
Individually fixed blades.
Flow straightened at the inlet.
Regulator feature.
Electronic measurement of pressure and temperature before and after each stage.
Volumetric flow and speed determined electronically.
3-hole sensor.
Technical Data :
2 fans, speed control via frequency converter .


Nominal rating, drive motor: 3.45 kW.

Differential pressure max.: 798 Pa.

Max. speed: 2850 rpm.


Blade angle: 39 deg.


Fan pipe inside diameter: 400 mm.
Contact Us
Factory: 70, Edutek House, Main Road Vikaspuri, Industrial Area, Ambala Cantt, Haryana, 133006, India
Phone :09996644855