Stereo Microscope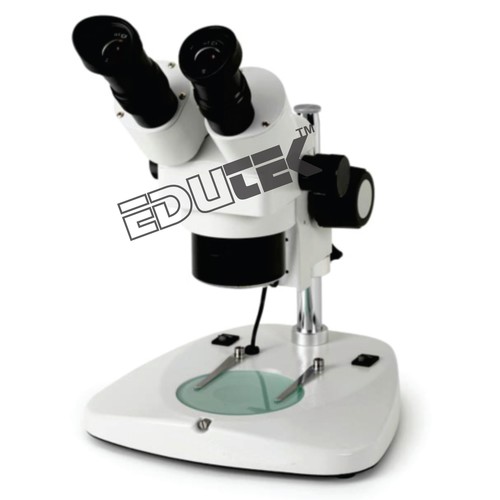 Stereo Microscope
Product Description
STEREO MICROSCOPE
To observe the microscopic object like plant cell, animal cell etc. Uses two lenses to make thing s look larger.
Specification
Type: magnification.
Objectives : 1 X - 2X, 1X-3X or 2X-4X; turret.
Eyepieces : Wide field HWF 10X; optionally 15X, 20X All eyepieces accept 25mm diameter eyepiece graticules.
Magnification Full range of magnifications 10X to 80X
Stages Interchangeable clear and black/white.
Working Distance 61 to 106mm
Optical System Erect un-reversed image, convergent angle 120, interpupillary, adjustable from 55 to 5mm, diopter adjusment by left eyepiece tube.
Binocular Tube 361 rotatable, inclined 45
Focusing Coarse focusing with rack and pinion control.
Illumination Deal Illumination built-in, dual illumination system providing both incident and transmitted light independently or simultaneously. in-base transformer provides low voltage, high intensity illumination
Certification ISO/IEC product certificate
Power supply 220V/501-17.
Documentation Installation and operation manual
General Features : Durable. Comfortable and Easy to Ilse Versatility for many Applications. large fields of view
warranty One year.
MICROSCOPE (ES-4D)

Stereo microscope with complete system for incident or oblique illumination,
Comprise: x 10 WF eye pieces plus eye guards,
A stand with black/white reversible plate and stage clips together pre focus illuminator,
Comprising head linkages and variable power supply.
Head Monocular
Stage plain stage with fixed condenser holder
Eye piece 10 x wide field
Objectives 4 x 10 x 40
Condenser 2 lence flip top
Illumination 6V, 10W, plus mirror unit
Dimension 194 x 220 360 mm