Stefan Boltzmann Apparatus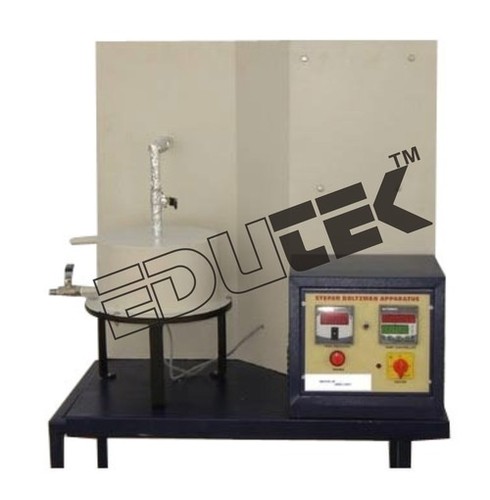 Stefan Boltzmann Apparatus
Product Description
Stefan Boltzmann Apparatus:-

We are engaged in the manufacturing, trading and exporting of premium quality Stefan Boltzman Apparatus. Obtained from authentic vendors, best quality raw materials are used in the manufacturing of this apparatus. This apparatus is acknowledged around the globe for hassle-free installation, simple functionality and cost-effectiveness. Moreover, our offered apparatus is provided with a high quality temperature sensor and an instruction manual.
Description:
The apparatus is designed to determine the Stefan Boltzman constant.The apparatus consists of a hemisphere fixed to a Bakelite plate, the outer surface of which forms the jacket to heat it.Hot water to heat the hemisphere is obtained form a hot water tank, which is fixed above the hemisphere. The copper test disc is introduced at the center of hemisphere.The temperatures of hemisphere and test disc are measured with the help of temperature sensors.

Experimentation:
Determination of Stefan Boltzmann constant and study the effect of hemisphere temperature on it.
Utilities required.
Electricity Supply : 1 Phase, 220 V AC, 2 kW.
Table for set-up support.

Technical Specifications :

Hemisphere Diameter: 200 mm (approx.) made of Copper.
Jacket Diameter: 250 mm (approx.) made of Stainless Steel.
Test Disc Size: 20 mm Diameter. x 1.5-mm thickness made of Copper.
Water Tank: Stainless steel 12 Liter. cap.
Heater: Ni-chrome wire immersion heater.
Digital Temp. Controller: 0 to 199.90C, (for water tank).
Digital Temp. Indicator: 0 to 199.90C, with multi channel switch.
Temperature sensors: RTD PT-100 type.
Instruction Manual: An English instruction manual will be provided along with the Apparatus.
The whole set-up is well designed and arranged on a powder-coated structure.
Contact Us
Factory: 70, Edutek House, Main Road Vikaspuri, Industrial Area, Ambala Cantt, Haryana, 133006, India
Phone :09996644855