Standard Penetrometer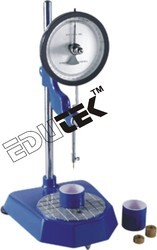 Standard Penetrometer
Product Description
Standard Penetrometer :
Cast iron base with leveling screws, digital penetration measurement gauge 0.01 mm precision, release button, automatic zeroing. Semi-automatic model 81-B0101/D is supplied complete with automatic controller, which automatically releases the plunger by a magnetic device. Both models are fit with a micrometer vertical adjustment device. The electronic timer allows the user to set up and read the fall time of the needle during testing.Conforming to ASTM D217
Accessories:
Penetrometer needle, 2.5 0.05 g.
Penetrometer needles, 2.5 0.05 g. Set of 3 pieces.
Verified penetrometer needle 2.5 0.5 g. Complete with test certificate issued by National Physical Laboratory.
Sample cup, dia. 55x35 mm. Set of 6 pieces.
Sample cup, dia. 70x45 mm. Set of 6 pieces.
Mirror with articulate holder. To make easy the surface contact between the needle and the sample.
Glass transfer dish with support, 100 mm dia. x 100 mm high.
IP 38 C Thermometer, range from +23 to +26C, 0.1C graduation.
EN thermometer, range from +19 to +27C range, 0.1C graduation, type ASTM 17C.
EN thermometer, range from -8 to +32C range, 0.1C graduation, type ASTM 63C.
Thermostatically controlled digital water bath with cooling system and conditioning vessel. 230 V, 50-60 Hz, 1 ph. Provides water at the required temperature (25 0.1C) to perform the penetration test. The apparatus consists of a water bath fit with heater, water cooler, digital thermoregulator, cylindrical vessel with cooling coil and connections. Temperature range: from +15 to 30C, 0.1C, Power: 350 W , Overall dimensions: 480x380x275 mm.
Contact Us
Factory: 70, Edutek House, Main Road Vikaspuri, Industrial Area, Ambala Cantt, Haryana, 133006, India
Phone :09996644855