Standard Penetrometer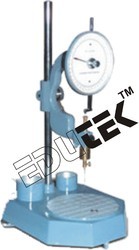 Standard Penetrometer
Product Description
Standard Penetrometer

Used to determine grade of bitumen. The penetration tests determine consistency of bitumen for the purpose of grading Depth in units 1/10 of millimeter to which a standard needle having a standard weight will penetrate vertically in a duration of five seconds at a temperature of 25º C determines penetration for gradation.

Consists of a vertical pillar mounted on a base provided with leveling screw The head together with dial gauge rod and cone (or needle) slides on a pillar and can be clamped at required height. A rack and pinion and pointer assembly provides adjustment of needle or cone tip to sample. It incorporates a slipping clutch mechanism which make reading of penetration and sub sequesnt restting a simple and accurate operation The dial is graduated in 400 1/10th mm sub-divisions, and the red needle pointer against black figures makes for easy reading. Supplied complete with one 50 gram weight, and one 100 gram weight and one needle.
Accessories :-

Penetrometer Cone : Made of Gunmetal and is fitted with a hardened and ground detachable steel, tip and a stem, Total moving weight is 150 + 0.1 gram.

Automatic Standard Penetrometer :
Same as above RSEP-180, but supplied with transistorized timer and electro-magnet incorporated in the cluth mechanism to accurately control penetration time to exact five seconds.

Contact Us
Factory: 70, Edutek House, Main Road Vikaspuri, Industrial Area, Ambala Cantt, Haryana, 133006, India
Phone :09996644855