Robin and Cone Blender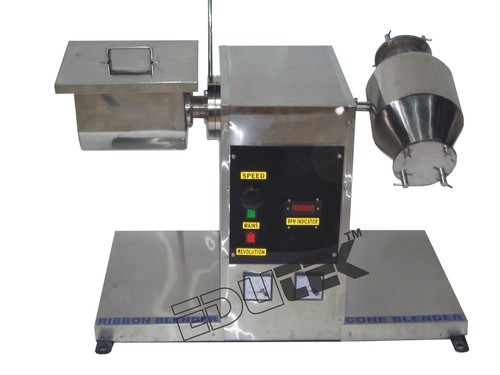 Robin and Cone Blender
Product Description
Ribbon And Cone Blender
The Ribbon and cone Blender is a tumble blender intended for laboratory applications. Consist of two S.S cone welded with the cylindrical shell and having charging and discharging at opposite ends. As the cone shaped blender shell rotates, the tumbling action splits the powder or liquid bed and then combines it, bringing about the mixing of the ingredients. The result is a consistent, uniform, predictable blend.
Operations of Ribbon and Cone Blender :
The complete assembly is mounted on a MS/ SS structure The material is moved from side of the trough to the center and vice versa resulting in quick & homogeneous mixing Double ribbon configuration also brings material towards central bottom outlet while discharging A specially designed valve is provided at the center or butterfly valve for discharge Blending is achieved in semi-fluidized state in the upper zone of the trough when used for fine powders Machine can be provided with spray nozzles with pressure spraying system for spraying additives in blenders Ribbon blender can also be used as dryer by providing jacket on the trough.
Contact Us
Factory: 70, Edutek House, Main Road Vikaspuri, Industrial Area, Ambala Cantt, Haryana, 133006, India
Phone :09996644855