Ring and Ball Apparatus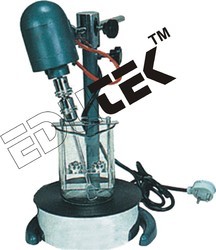 Ring and Ball Apparatus
Product Description
Ring & Ball Apparatus

Edutek is manufacture, exporters & suppliers of Ring and Ball Apparatus

Used :- Determination of the softening point of bitumen consists of:

Two steel Balls each 9.5 mm in dia.
Brass Rings :- Two Tapered of Brass.
Ball Guide :- Two.
Ring Holder :- One.
Bath :- Breaker of heat resistance glass I.D. 8.5 cm and Depth 12 cm approx .

Ring & Ball Apparatus, Electrically Heating. But Supplied with a heating unit with an energy regulator which permits fine regulation of temperature In addition, there is an electrically operated stirrer mounted on a stand with chuck and glass rod or aluminum rod and for stirring Phase, 50 Cycles, A.C. supply.