Radial Drilling Machine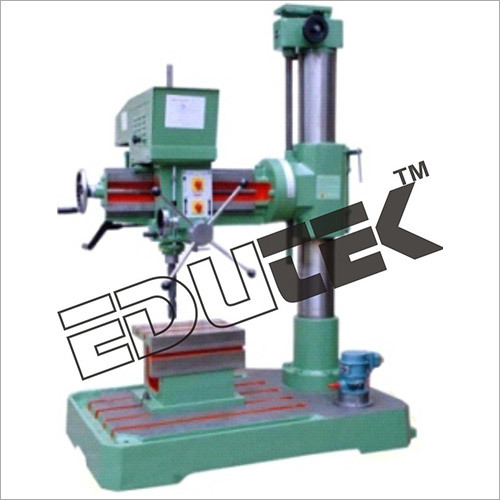 Radial Drilling Machine
Product Description
Radial Drilling Machine
Edutek Instrumentation are Manufacturer and Supplier univer Company in India,We are Exporter in India and other country We are manufacturer and Exporter of Radial Drilling Machine . Offered machines can be installed easily and work smoothly.
Descriptions of Radial Drilling Machine
Special CAM operated head clamping Quill balancing Auto-feed enabled by electromagnetic chuck Hardened gears for both speed and feed gear box Drilling Capacity In Steel 63mm,; Drilling Capacity In Cast 75mm;Boring Capacity In Steel 100mm; Min. / Max. distance between spindle & column 350 / 1600 Radial Arm Swivel 0-360 Degrees; Number of spindle feeds 6 Range of Spindle feeds0.09 to 1.20 mm/rev Range of Spindle speeds 36 to 1796 rpm.
Accessories of Radial Drilling Machine
Drill Holder Brackets, Twist Drills: High speed steel with straight and tapered shanks drills ( high helix drill, core drill, oil hole drill, straight-fluted drill, deep hole or gun drill, spade drill, and Step drill, and saw-type hole cutter; Single point boring tool; Center drills regular and bell type; Reamers: rose, carbidetipped, shell, adjustable and expansion-type reamers; Machine Taps: Gun,
Stub flute and spiral flute each type supplied in sets of three; fluteless tap; countersinks; All to be supplied with the respective accessories such as drill jig chucks, guide plate and spacers. Functions for: machining holes and cutting internal thread.
Specification:
Maximum drill diameter: 80mm
Distance between spindle nose to table: 550-1600mm
Distance between spindle axis and column surface: 450-2000mm
Spindle travel: 400mm
Rotary angle: 360deg
Main motor power: 7,5kw
Lifting motor power: 1.5kw
Working table: 780x580x500mm 1 no.
Anchor bolt: M
Contact Us
Factory: 70, Edutek House, Main Road Vikaspuri, Industrial Area, Ambala Cantt, Haryana, 133006, India
Phone :09996644855