Portable Hydraulic Trainer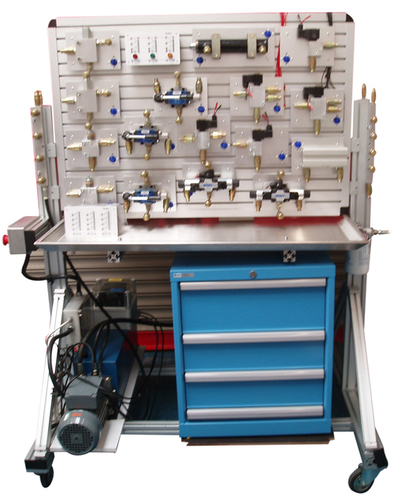 Portable Hydraulic Trainer
Product Description
PORTABLE HYDRAULIC TRAINER
The portable hydraulic principle trainer is designed for common courses such as 'hydraulic control
technology', 'hydraulic and pneumatic transmission', which is widely used in industrial area and
school education. It is suitable for technical secondary school, junior college, vocational school,
mechanical engineering major education. By the experiment operation and course design, students
can understand the structure of hydraulic components, loop control principle, design method and so
on. The trainer is mainly composed of training box, oil tank, motor and gear pump (one body
design), hydraulic components, oil tubes and so on, with the advantage of small size, light weight,
easy to move. It is an excellent solution for the traditional teaching way that teachers can only
conduct the course in one place.
EXPERIMENTS OF PORTABLE HYDRAULIC TRAINER
Understanding of hydraulic components structure, signal and functions, Single stage pressure
regulating loop of overflow valve, One level pressure-relief loop of reducing valve, Oil in speed regulating loop of flow control valve, Oil return speed
regulating loop of flow control valve, Side oil line throttle governing loop of one way throttle valve, Reversing loop of hand directional valve, Series
speed regulating loop of flow control valve and throttle valve, Parallel speed regulating loop of flow control valve and throttle valve, Oil in and oil
return speed regulating and throttling loop
Disassembly and assembly of overflow valve, reducing valve, hand directional valve, Hydraulic cylinder, Throttle valve, Flow control valve, Self-locking
hydraulic connector
Contact Us
Factory: 70, Edutek House, Main Road Vikaspuri, Industrial Area, Ambala Cantt, Haryana, 133006, India
Phone :09996644855