Overhead Projectors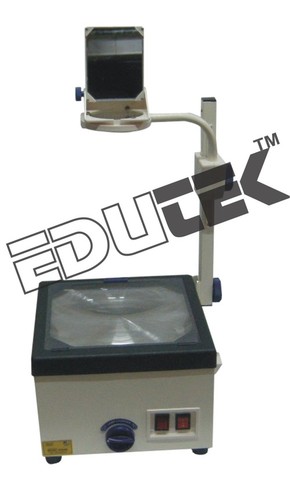 Overhead Projectors
Product Description
Overhead Projectors
A projector that projects onto a screen or surface the image on a transparency placed over the projector's light source.
Overhead projectors normally include a manual focusing mechanism which raises and lowers the position of the focusing lens (including the folding mirror) in order to adjust the object distance (optical distance between the slide and the lens) to focus at the chosen image distance (distance to the projection screen) given the fixed focal length of the focusing lens. This permits a range of projection distances.
Specification of Over Head Projectors
Body of thick mild steel / fiber Body finished in powder coated colour combinations Projection Head folding type, focusing by Rack-n-Pinion Illuminations : 24V-250W on step-down transformer with solid state control Writing surface: 250 x 250 mm or 285 x 285 mm. Complete with on-off switch, mains indicator,
light intensity control switch, cord-plug & fuse
Standard Accessories with the Equipment: Transparent cellophane roll, writing pack, cleaning cloth, vinyl cover. Packed in a card board box with thermocol packing.
Decline in use Overhead projectors were once a common fixture in most classrooms and business conference rooms,
Contact Us
Factory: 70, Edutek House, Main Road Vikaspuri, Industrial Area, Ambala Cantt, Haryana, 133006, India
Phone :09996644855