Moisture Meter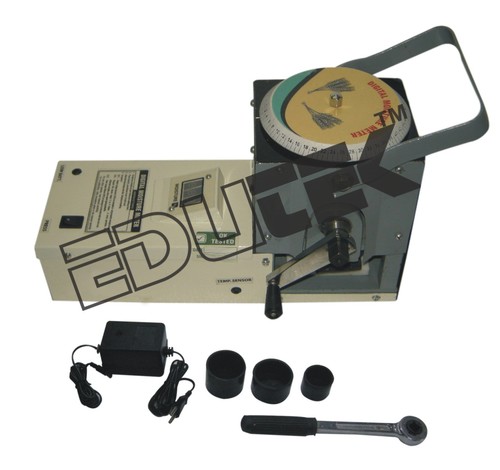 Moisture Meter
Product Description
Digital Moisture Meter(ETK-1146)
Suitable for testing moisture of cereal seeds, Pulses & oil seeds, vegetable seeds, spices etc. It will take less than a minute to complete the test and find out the percent moisture content in a given sample. It will give percent moisture content directly on display unit without need of chart or table. It has Room temperature display facility on the display unit. It has facility of automatic temperature correction. Portable with carrying handle. Simple to operate without skill. Necessary standard tools and test cups provided.
Technical Specification of Digital Moisture Meter:
Range : 3.5 to 40%
Accuracy : 0.2%
Display : Three Seven Segment FND
Principle : Resistance Measurement
Power : Six 9v Dry Cells or 230 Volts 50 Hz AC through Adoptor
Temperature : Automatic
Size : 300x170x260 mm. approx.
Features of Digital Moisture Meter:
Room Temp. Display
No Arithmetic Required
Optional of Digital Moisture Meter
Separate Commodity Code System.
Auto Calibration
SEED MOISTURE ANALYZER(ETK-1146E)
Measurement range, %: 1-35 moisture,
Wet basis (depending on application)
Accuracy: Typical standard deviation 0.03 for moisture,
1.0 Hectolitre weight
Operating environment, C: 0 to +55
Power supply: Four C size 1.5V alkaline batteries
Weight, kg: 1.8
Dimensions, mm: 325 x 164 x 120
The technology allows the use of whole grains
With no need to grind the sample.
Cereals, oil seeds, pulses etc, can
Contact Us
Factory: 70, Edutek House, Main Road Vikaspuri, Industrial Area, Ambala Cantt, Haryana, 133006, India
Phone :09996644855