Modified Marshal Stability Test Apparatus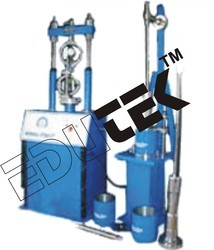 Modified Marshal Stability Test Apparatus
Product Description
Modified Marshal Stability Test Apparatus
The test is intended for the measurement of the resistance to plastic flow of cylindrical specimens of bituminous paving mixture loaded on the lateral surface. For use with hot mixture containing asphalt or tar and aggregate upto 25.4 mm maximum sizes.

The marshal stability test apparatus consists of following:
Marshal Load Frame 100 k N capacity, Electrically Operated, with platen rate travel of 50.8 mm/min. Safety cutoff switch is provided with the machine to avoid from overloading 1 No.
Marshal Compaction Pedestal for compaction of 152.4 mm (6) diameter specimen 1 No.
Breaking head assembly to accommodate specimen of 152.4 mm diameter with dial gauge 0.01 x 25 mm travel 1 Set.
Specimen Extractor (Platen, Steel Ball & Extracting Rod) 1 Set.
Marshal Specimen Mould 101.6 mm dia complete with collar and base plate 3 Nos.
Modified Marshal Compaction Hammer 10.2 kg (22.5 lbs) 149.4 mm dia x 457 mm (18) drop height 2 Nos.
Proving Ring, 25 k N or 30 k N or 50 k N (as per requirement) capacity fitted with dial gauge with set of loading pads and calibration certificate in a nice wooden carrying case.
The Machine is fitted with HP motor. Suitable for Operation on 220 V, Single Phase, 50 Hz, AC Supply.
Contact Us
Factory: 70, Edutek House, Main Road Vikaspuri, Industrial Area, Ambala Cantt, Haryana, 133006, India
Phone :09996644855