Marshal Stability Test Apparatus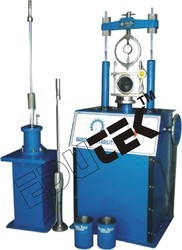 Marshal Stability Test Apparatus
Product Description
Marshal Stability Test Apparatus

The test is intended for the measurement of the resistance to plastic flow of cylindrical specimens of bituminous paving mixture loaded on the lateral surface. For use with hot mixture containing asphalt or tar and aggregate upto 25.4 mm maximum sizes.

The marshal stability test apparatus consists of following:
Include Accessory :
Base Plate and extension collars.
Speciment Extractor 3.95" dia,0.5" height C.
Compaction Hammer10 Lb(4.54 kg).
Compaction Pedestal 203.2 x 203.2 x 457.2 mm.
Speciment Mould Holder.
Breaking Heart.
Loading Jack (50.8 mm/min).
Digital Load Ring (2500 kg capacity.
Flowmeter 0.01"(0.25 mm.
Hand Operated Sample Ejector.
Stability Mould (27.7 KN capacity).
Contact Us
Factory: 70, Edutek House, Main Road Vikaspuri, Industrial Area, Ambala Cantt, Haryana, 133006, India
Phone :09996644855