Laminar Air Flow Cabinets Vertical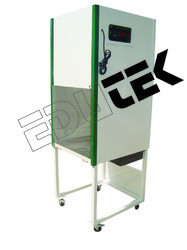 Laminar Air Flow Cabinets Vertical
Product Description
Laminar Air Flow Cabinets- Vertical

Laminar Air Flow Cabinets ETC-73
works on laminar flow principle involves double filtration of air through coarse Pre Filters (upto 5microns) and Hepa filters (down to 0.3 microns) for filtration of Biological & Particulate contaminants. A constant uni-directional air flows either Horizontally or Vertically, is drawn from atmosphere and passed through pre and Hepa filters on to the work surface. Fabricated out of reinforced pest and weather resistant Duro-board which is clad in from outside in laminated sheet and inner exposed areas are finished in Epoxy paint. Table top stainless steel sheet. Side panels are fixed and made of clear plexiglass. Front door is folding & made of clear plexiglass.
Prefilters:-
DOP tested as per Standard BS: 2831 with efficiency 90% down to5 microns. Made of Washable synthetic material.
Hepa Filters:-
Made of Microglass fibre with corrugated aluminium foil separators. DOP tested as per US Standard 209B. Efficiency99.97% down to 0.3 microns.
Blower Units:-
Assembly of AU or equivalent motor workable on 220V AC 50Hzsingle phase, dynamically balanced blowers making the unit least vibrant with minimum noise level.
Features:-
Lighting : Fluorescent tube lights
Sterilization : Germicidal Ultra Violet (UV) tube
Manometer : Static pressure thick Acrylic block type
K-System:-
The K-System encompasses the specialist requirement of ocyte, and embryo handling during procedures in both animal and human reproduction. The K-system is often built into a Laminar Flow Cabinet. The utensils are warmed by the heating of part of the table plate of the cabinet.
The transmitted light source and the regulation transformer for the stereo microscope are located under the stainless steel table plate, with a window for transmitted light built into the table plate.
Advantages of the K-System:-
Maximum working area in Laminar Flow Cabinet
Handling of ocytes and embryos on one level
All ocytes from one patient in one storage tray
Ocytes stored in cabinet until insemination
Cleaning is easy and sterilization possible
Laminar with All Stainless steel body / Sealing / Wall Hanging can also be fabricated
Suitable for Pharmaceutical Industries as per the requirement
Contact Us
Factory: 70, Edutek House, Main Road Vikaspuri, Industrial Area, Ambala Cantt, Haryana, 133006, India
Phone :09996644855