Kaplan Turbine Trainer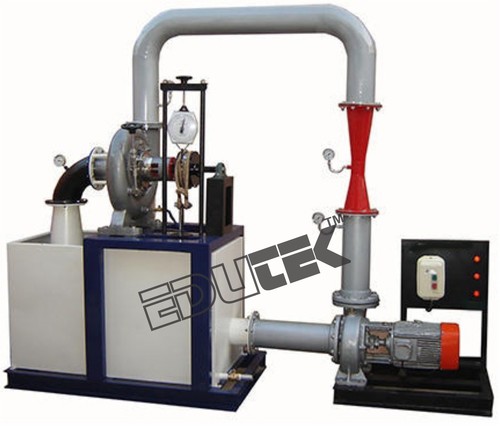 Kaplan Turbine Trainer
Product Description
KAPLAN TURBINE TRAINER
The unit is used to investigate the characteristic behavior of a simple-regulated Kaplan turbine during operation.

The trainer is provided with a closed water circuit with tank, submersible pump and throttle valve tbr adjusting the flow rate.

The angle of attack of the rotor, and thus the power output of the turbine, is changed by adjusting the guide vanes.

The turbine is loaded with a wear-free eddy current brake.

The speed is captured by means of an inductive, non-contact position sensor at the turbine shaft.

For determining the turbine power, the eddy current brake is equipped with a force sensor for torque measurement.

The pressures at the inlet and outlet of the turbine, the temperature and the flow rate are recorded with sensors.

The recorded measured values are displayed digitally and processed further in a PC.

The PC is used to calculate the power output data of complete with all required accessories.

The examined turbine and to represent them in characteristic curves.
Kaplan turbine
output: about 1000 W

speed: about 3700 min-1

distributor 8 guide vanes,
4 blades,

Adjustable: -15 deg....45 deg. rotor

fixed external : 120 mm,

internal : 60 mm,

pitch: 80 mm

Pump with motor

flow rate: about 250m3/h

pump head: about 10m

nominal power: about 3 kW

Software for data acquisition and PC with Windows 230V, 60Hz, 3

Complete with all required accessories.