Incubator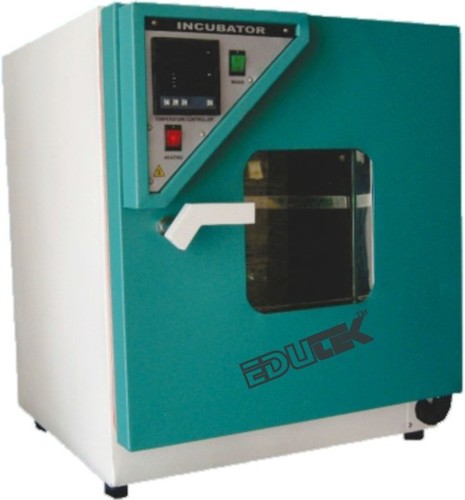 Incubator
Product Description
INCUBATOR
Has a standard double walled construction. Inner chamber made of stainless steel sheet and outer made of mild steel sheet finished in powder coated colour combinations. Gap filled with glass wool for temp. Insulation. Double walled door with double glass window for observation in the chamber.
Temperature range 5C above ambient to 80C C controlled by a thermostat. L-shaped thermometer provided along with pilot lamps, on-off switch temp. Control knob etc. It works on 220V AC50Hz single phase.
Capacity 74 Lit,
Interior dimension: 400 x 560 x 330.

INCUBATOR (ET-11977DI)

Electronic controller with digital indication of set thermostat temperature and actual temperature.
Lock on scale permits controller to be secured against accidental change.
Fully adjustable safety thermostat for sample protection.
Led digital display of set and actual temperatures and of safety control setting.
Operating temperature range 30 to 80C,
Capacity 120 liter,
Range 5C above ambient80C,
Fluctuation 0C + 0.5,
Variation 0C 1.5
Contact Us
Factory: 70, Edutek House, Main Road Vikaspuri, Industrial Area, Ambala Cantt, Haryana, 133006, India
Phone :09996644855