Gas Turbine With Power Turbine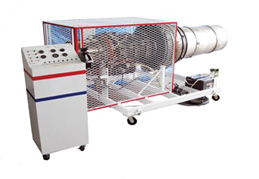 Gas Turbine With Power Turbine
Product Description
GAS TURBINE WITH POWER TURBINE
The trainer investigates the behavior during operation of a system with two independent turbines in a two-shaft arrangement. One turbine (the high-pressure turbine) drives the compressor and the other turbine (the power turbine) supplies the effective power. Changes in power output in the power turbine have no influence on the compressor, which is able to keep running at optimum speed at the best efficiency point.
The trainer includes the following components: compressor, tubular combustion chamber and high-pressure turbine; fuel system; starter and ignition system; lubrication system; power turbine; generator; and measuring and control equipment.
The complete unit is called gas turbine. The gas turbine works as an open cyclic process, with the ambient air being drawn out and fed back in. The high-pressure turbine together with the compressor and the combustion chamber are called gas generator as they produce the required gas for the power turbine.
The speed temperatures and pressures and the mass flow rates of the air and fuel are recorded and displayed using sensors. Typical characteristic variables are determined.
Compressor and high-pressure turbine


Speed range 60000_120000 min-I


Pressure ratio: 2.2


Fuel consumption: 120 g/rain


Power turbine


Speed range: 10000...40000 min


Mechanical power: 0...1,5 kW


Electrical power: 0...1 kW


Asynchronous motor: 2,2 kW/400 V


230 V, 60 Hz, 3 phases, complete with all required accessories.

Trade Information
7 Days

Asia, Australia, Central America, North America, South America, Eastern Europe, Western Europe, Middle East, Africa
Contact Us
Factory: 70, Edutek House, Main Road Vikaspuri, Industrial Area, Ambala Cantt, Haryana, 133006, India
Phone :09996644855