Free and Forced Vortex Flow Apparatus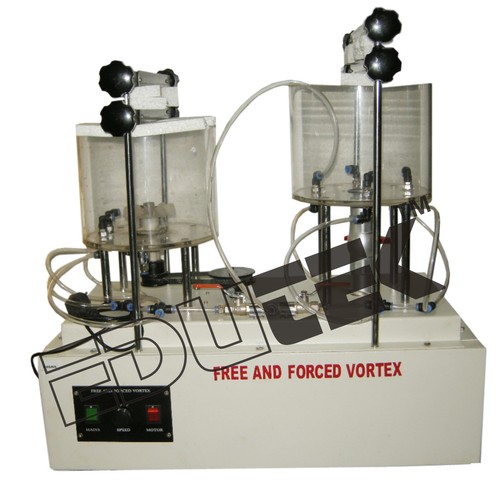 Free and Forced Vortex Flow Apparatus
Product Description
Specification of Free and Forced Vortex Flow Apparatus :
The apparatus comprises a clear acrylic cylinder on a plinth designed to produce and measure free and forced vortices. The free vortex is generated by water discharging through an interchangeable orifice in the base of the cylinder, and the resulting profile is measured using a combined calliper and depth scale. The forced vortex is induced by a paddle in the base of the cylinder, which is rotated by jets of water. The profile of the forced vortex is determined using a series of depth gauges.
Velocity at any point in the free or forced vortices may be measured using the appropriate pitot tube supplied. Dye crystals (not supplied) may be used to demonstrate secondary flow at the base of the free vortex.
Supporting frame in stainless steel.
Dimensions: 500 x 600 x 45 h mm.
Bench support in stainless steel.
Hollow rotation shaft in stainless steel.
Outer cylindrical tank in Plexiglas , 400 mm in diameter, 200 mm high, 5 mm width.
Inner cylinder in perforated stainless steel plate, 300 mm in diameter, 200 mm high, 1mm width.
Variable speed (0-160 rpm) motor powered with 24 V dc.
Power supply and speed control unit.
Pitot tube for the measurement of piezometric load and the determination of the profile of the free surface of the vortex.
Piezometric tube in clear Plexiglas.
3 graduated rod.
2 water nozzles to feed the tank.
The unit should be designed to be fitted in the basic hydraulic bench.
Contact Us
Factory: 70, Edutek House, Main Road Vikaspuri, Industrial Area, Ambala Cantt, Haryana, 133006, India
Phone :09996644855