Francis Turbine Trainer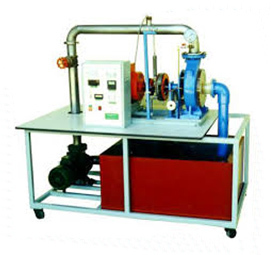 Francis Turbine Trainer
Product Description
FRANCIS TURBINE TRAINER
The unit enables examinations of the function and operating behavior of a Francis turbine.

The dimensions of the trainer guarantee realistic measured values.

The closed water circuit consists of a tank with optional cooling, a centrifugal pump and a flow control valve for adjusting the inlet pressure.

The transparent operating area of the turbine enables an optimal view of water flow, rotor and guide vanes during operation.

By adjusting the guide vanes the angle of attack, the cross-section and thus the output of the turbine are changed.

An asynchronous machine is used as a generator for loading the turbine.

A pump with variable speed via frequency converter provides for an energy efficient operation.

The measured values are displayed digitally and processed further on a PC.

The output data of the examined turbine are determined and represented by characteristic curves.
Specification:
Francis turbine


Hydraulic power: 2 kW at 1500 mint


Mechanical power: approx. 1,5 kW at 1500 mind


Rotor, 15 blades 10 guide vanes, angle of attack adjustable: 0...23


Centrifugal pump, multistage variable speed power consumption: 5 kW flow rate about 900 L/min


Pump head about 40 m


230 V, 60 Hz, 3 phases


Complete with all required accessories.

Contact Us
Factory: 70, Edutek House, Main Road Vikaspuri, Industrial Area, Ambala Cantt, Haryana, 133006, India
Phone :09996644855