Fluid Friction Apparatus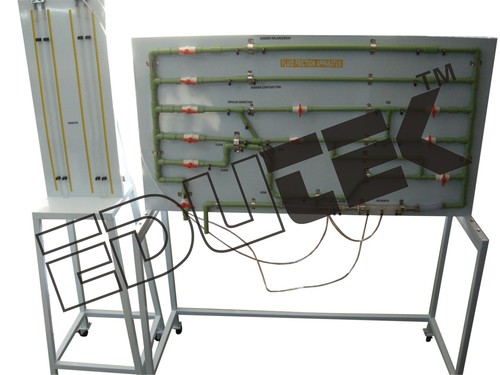 Fluid Friction Apparatus
Product Description
Fluid Friction Apparatus

Fluid Friction Apparatus Shows flow and losses in different pipes, fittings and valves. Shows popular flow measurement instruments.
A space-saving vertical panel that works with Gravimetric or Volumetric Hydraulic Benches for easy installation.
Includes different valves, pipes and fittings to show losses.
Includes experiments on roughened pipes.
Shows laminar and turbulent flow.
Uses Bernoulli's equation.
Shows how to use Venturi and orifice meters to measure flow.

Includes a traversing Pitot tube to measure velocity profile.
Standard Features
Supplied with a comprehensive user guide.
Two-year warranty.
Manufactured in accordance with the latest Indian Union directives.
Contact Us
Factory: 70, Edutek House, Main Road Vikaspuri, Industrial Area, Ambala Cantt, Haryana, 133006, India
Phone :09996644855