Flow Meter Demonstration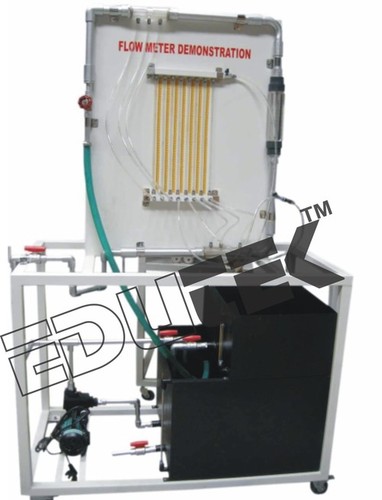 Flow Meter Demonstration
Product Description
FLOW METER DEMONSTRATION
Edutek are manufacturer and exporter of Flow Meter Demonstration Unit for engineering college lab.
The system is consist of a clear acrylic flow channel having large width-to -depth ratio.
Overshot and undershot weirs should be provided at the inlet and exit of the channel section.
Water should be supplied from the supply tank consisting of glass beads to reduce flow disturbances.
Flow patterns should be visualized using dye injection through needle valves.
Dye injection rate can be controlled and adjusted to improve the quality of flow patterns.
Specifications of Flow meter Demonstration
Supply tank with glass beads, 20 liters capacity.
Dye injection system, 0.5 liters reservoir capacity, 5 dye injection needles with needle valves at exit.
Depth gauge. 0150mm range.
Models: over shot weir, under shot weir, broad crested weir, sharp crested weir, hump, small cylinder,
large cylinder, symmetrical airfoil, symmetrical airfoil with flap, un-symmetrical airfoil, wing, disc and cuboid.
Computer based learning software.
Electrical Supply, 240 V, single-phase, 50 Hz.
Contact Us
Factory: 70, Edutek House, Main Road Vikaspuri, Industrial Area, Ambala Cantt, Haryana, 133006, India
Phone :09996644855