Flow In Pipe Networks Apparatus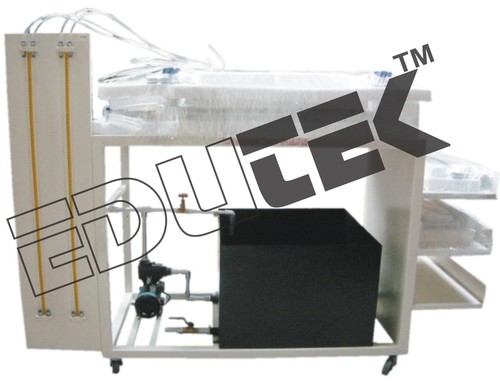 Flow In Pipe Networks Apparatus
Product Description
FLOW IN PIPE NETWORKS APPARATUS
Edutek are manufacturer and exporter of flow In Pipe Networks Apparatus for Mechanical Engineering Fluid Lab.
This equipment is designed to measure the flows and pressure drops in a wide range of pipe network configuration e.g. individual pipes, series pipes,
A pipe network specifically designed to allow the setting up

of a wide range of pipe arrays and the measurement of the

flows and pressures using water as the fluid.

A self-contained water supply and volumetric measurement

module provides the base for pipe assemblies.
1 off 22.5mm ID;
2off 17.5mm ID;
2 off 13.0mm ID;
common length 0.7m. Circulating pump: 0.55kW (0.75 HP) centrifugal.
Contact Us
Factory: 70, Edutek House, Main Road Vikaspuri, Industrial Area, Ambala Cantt, Haryana, 133006, India
Phone :09996644855