Flexural Testing Machine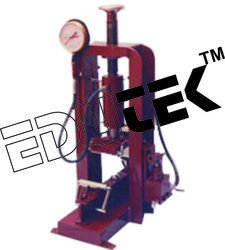 Flexural Testing Machine
Product Description
Flexural Testing Machine

Flexural Testing Machine (Hand Operated)

The machine consists of a hand frame. The lower platen has two rollers the distance between which is adjustable For 150 mm x 150 mm x 700 mm beam, the centre distance between rollers is 600 mm, while it is 400 mm for beams of size 100mm x 100mm x500mm. The upper platen has also a pair of rollers whose distance is adjustable. It is 200mm centre to centre, for 150mm x 150mm x 700mm size beam and 133 mm for 100 mm x 100 mm x 500 mm size beam. A pressure gauge to indicate load is fixed on the load frame. A small pumping unit is attached to the load frame. Total capacity of the machine is 100 KN and a 150mm dia pressure gauge 0-100 KN x 1 KN is fitted on the machine Since this is a hand operated light weight machine, its is useful for field laboratory also.

Contact Us
Factory: 70, Edutek House, Main Road Vikaspuri, Industrial Area, Ambala Cantt, Haryana, 133006, India
Phone :09996644855