Fiber Optic Head Light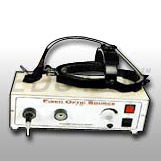 Fiber Optic Head Light
Product Description
Fiber Optic Head Light
State-of-art multiple coated system concentrates and focuses the brightest white light available-virtually shadow free.
Unique design enables headlight adjustment from side to side and from straight down and upward positions.
Coaxial Fiber optic Headlight is available with a variable 5-80mm light spot.
Convenient Focussing sleeves for uniform quality illumination.
Absolutely no heat through distance lamp source.
Glamorous adjustable plastic Head-Band with lock.
Elegant one bulb Halogen 24v 250w light source.
Variable Light intensity of high intense source.
With one spare bulb.
Contact Us
Factory: 70, Edutek House, Main Road Vikaspuri, Industrial Area, Ambala Cantt, Haryana, 133006, India
Phone :09996644855