Electronic Trainer Kits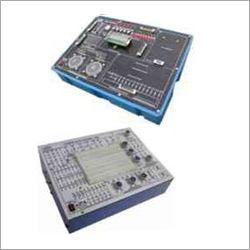 Electronic Trainer Kits
Product Description
Electronic Trainer Kits
We have been serving our clients spread across the globe with a precised range of electronic trainer kit. These electronic trainer kits are in wide demand as these comply with various industrial standards and comprise
Antenna Trainers
GPS Trainer
Radar Trainer
RFID Trainer
Instrumentation Trainers
Communication Trainers
LAN Trainer
VLSI Trainers
Microprocessor
Microcontroller & Interfaces Trainers
Consumer Electronics Demonstration Trainers
Test and Measuring Instruments
Microwave Test Benches
Educational Wall Charts
Robotics Kits
Decade Boxes (R,L,C)
Analog Electronics Lab
Digital Electronics Lab
Power Electronics Lab
Breadboards
Power Project Board
Circuit Lab Trainers
Physics Systems Training
Fibre Optics Trainers
Power Supplies

The systems address technology for master unit and optional modules, independent built in power supplies and breadboard based educational lab equipment.
Analog electronics lab
Antenna, RF satellite, microwave, radar, GPS, wireless, RFID, LAN & VLSI trainer
Bread board trainers
Communication trainers
Component display boards
Computer interface trainer
Demonstration boards
Digital electronics lab
Educational wall charts
Fibre optics trainers
Individual items for practical physics
Instrumentation & control trainers
Laboratory standards / decade boxes (r, l, c)
M.Sc. Physical Chemistry (Final Year) (As Per Latest Model Curriculum By UGC)
Microprocessors / Micro controllers & Interfaces
Microwave Test Benches
Physics Laboratory Experimental Set-Ups
Power Electronics Lab
Power Supplies
Robotic Kits
Test And Measurement Instruments
Transmission Line Analyser 0.3 GHz
Advanced Satellite Communication Trainer 2.4GHz
Radar Trainer
RF Training System with 23 Modules
RF Signal Source (10 MHz 1.1 GHz)
RFID Trainer
Power Electronics Lab
Microwave Power Meter (10 MHz - 20 GHz)
Microwave Integrated Circuit Analyser (5 MHz - 2 GHz).