Ductility Testing Machine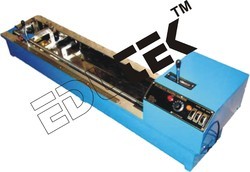 Ductility Testing Machine
Product Description
Ductility Testing Machine

The Machine consists of the following:
Stainless steel bath.
Temperature controller (Thermostatic/Digital).
Immersion electric heater.
Constant speed Pump cum stirrer.
Carriage holding up to three standard briquette moulds.
Electric motor with gear mechanism.
Stainless steel scale and pointer.
Control Penal.
PC controlled, 4 briquettes capacity.
1500 mm carriage travel.
Adjustable testing speed from 5 to 100 mm/min.
Thermostatically controlled water bath at 25 ± 0.2°C and from 4 to 30 ± 0.2°C.
Force measurement facility Maximum tensile force up to 1200 N, ( 4 x 300 N per line ).
Overall dimensions ; (l x d x h) 2434 x 412 x 385 mm.
Total Power rating approx.;1200 W, 230 V, 50-60 Hz, 1 ph.
Weight approx.; 100 kg, transparent cover included.
Contact Us
Factory: 70, Edutek House, Main Road Vikaspuri, Industrial Area, Ambala Cantt, Haryana, 133006, India
Phone :09996644855