Direct Vision Spectroscope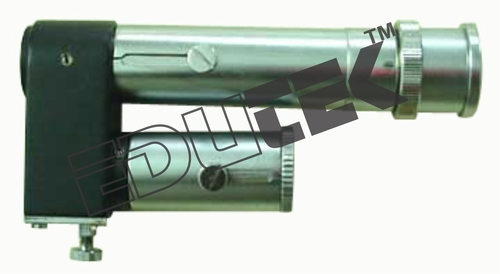 Direct Vision Spectroscope
Product Description
Direct Vision Spectroscope
Description of Direct Vision Spectroscope :
The Direct Vision Spectroscope is mostly used in hospitals, medical Labs and medical colleges. The testing device allows the users to directly read the spectral length and engage the prism for dispersion. The direct vision spectroscope is also used in the flame test to test basic radicals like strontium, sodium, copper, potassium, etc .
Specification of Direct Vision Spectrometer :
Direct Vision Spectroscope comprises of a single eye piece and independent focusing tube for the graticule that carries the index at 590mm.
The D mark which is provided below the scale corresponding to the wavelength of the sodium light is calibrated to the known light source by adjusting the knurled screw.
The light which is emitted to the spectroscope can be regulated efficiently with the help of the variable slit that can also be adjusted by a knurled during which is provided outside the rating tube.

Contact Us
Factory: 70, Edutek House, Main Road Vikaspuri, Industrial Area, Ambala Cantt, Haryana, 133006, India
Phone :09996644855