Digital Marshall Stability Test Apparatus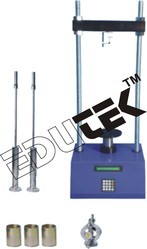 Digital Marshall Stability Test Apparatus
Product Description
Digital Marshall Stability Test Apparatus
This versatile digital loading frame features a microprocessor controlled drive system with stepper motor enabling the operator to easily set any test speed by digital switches. The machine is fitted with an RS 232 C port so it can be remotely controlled by a personal computer. The upper and lower limits of platen travel are set by use of automatic safety cutout switches. All load rings, dial gauges, cells, etc. have to be ordered separately.
Specification :
Load capacity : 50kN (5000 kgf)
Platen Speeds : Selectable Speed range 0.01 mm to 62mm/min
Accuracy of platen speed : 1%
Max. vertical daylight : 0-850 mm
Platen dia : 180mm
Distance between columns : 380mm
RS 232 Port for connection to personal computer. L.V.D.T. can be supplied instead of dial gauge fitted with Breaking Head Assembly.
Contact Us
Factory: 70, Edutek House, Main Road Vikaspuri, Industrial Area, Ambala Cantt, Haryana, 133006, India
Phone :09996644855