Digital IC Trainer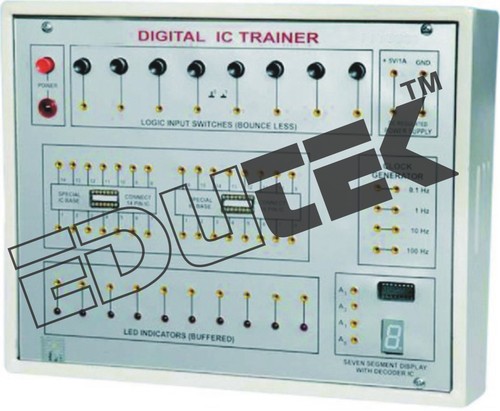 Digital IC Trainer
Product Description
Digital IC Trainer
Students can be trained about the digital ICs by using this board. The fundamentals of the digital ICs can easily be understood by performing required experiments for verification of truth table of logic gates. Quite large area of the bread board has been provided on the panel for ICs . Students can make the circuits easily on the bread board with the help of other accessories which have been provided on the panel. Practical experience on this board carries great educative value for Science and Engineering Students.
It consists of specially designed brass sockets of 2mm inner diameter which are press fit by special techniques on bakelite panel. Specially designed patchcords (with spring action) of pin diameter 2mm are provided so that the students can make interconnections themselves and varify the truth table as mentioned in User's Manual. Various experiments on logic gates, Flip-Flop & Counters can be done.
Board Consists of following
DC Regulated Power Supply 5 V/1 Amps.
Special IC Base of 14 Pin for inserting any IC of 14 pins -1 No.
Special IC Base of 16 Pin for inserting any IC of 16 pins - 1 No.
Logic Input Switches (Bounceless) - 8 No.
LED Indicators (Buffered)- 10 No.
Clock Generator - 1 No.
(0.1, 1, 10 & 100 Hz)
7 Segment Display with Decoder IC 7447 - 1 No.
2mm Interconnection Leads. - 10 No.
74 LS 08 (AND), 74 LS 32 (OR), 74 LS 04 (NOT), 74 LS 00 (NAND) 74 LS 02 (NOR) & 74 LS 86 (EX-OR)-1 No. 7474 (D Flip Flop 74LS76(JK Flip-Flop) & 7490 (Decade Counter) can be mounted on 14 or 16 pin IC Base.
Comprehensive USER's Manual for doing experiments on Logic Gates, Flip-Flops & Decade Counter is provided.
Contact Us
Factory: 70, Edutek House, Main Road Vikaspuri, Industrial Area, Ambala Cantt, Haryana, 133006, India
Phone :09996644855