Dart Impact Tester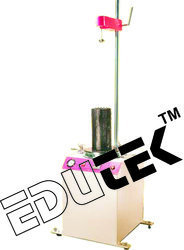 Dart Impact Tester
Product Description
Dart Impact Tester
Test impact resistance of plastic film by free falling dart method.
Dart : 2 nos.
Weights : A set of weights ranging from 5 grams to 500 grams would be supplied for incremental loads.
Release mechanism : Electromagnetic.
Vacuum creation : Single stage oil vacuum pump.
Paint : Powder coated.
Power : 230 Volts, 50 Hz, single phase.
Contact Us
Factory: 70, Edutek House, Main Road Vikaspuri, Industrial Area, Ambala Cantt, Haryana, 133006, India
Phone :09996644855