Compression Testing Machine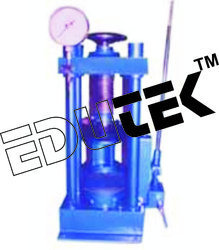 Compression Testing Machine
Product Description
Compression Testing Machine
3000 kN cap. compression frame for testing cylinders up to 160 x 320 mm and cubes up to 200mm. Conforming to EN 12390-4.
High-stiffness 4-welded-columns frame
Heavy duty spherical seat
Compression platens 300mm diameter x 50mm thickness
Daylights: horizontal 370mm, vertical 350mm
Piston travel 50mm
Limit switch preventing Piston over travel complete with front door and rear transparent guard
Load measurement accuracy (when connected to suitable control unit): class 1 to EN 12390-4 /class A to ASTM E74 starting from 10% of full scale. Special calibration from 1% of f.s. available on request
Supplied complete with traceable calibration
Certificate for load measurement accuracy and traceable test certificate for load transfer verification (stability test), when purchased with control unit
Complete with connection kit for separate control console (including pressure transducer) and base
Special calibration of load digital readout unit assuring class 1 from 1% of testing machine full scale [maximum load
Distance piece diameter 200 x 50 mm.
Distance piece diameter 200 x 68 mm.
Distance piece diameter 200 x 30 mm.