Compression Testing Machine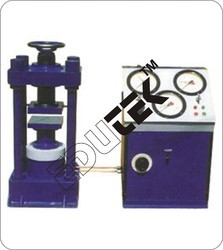 Compression Testing Machine
Product Description
Compression Testing Machine
Edutek are leading manufacturer and exporter of Compression Testing Machines Analogue, Digital, Micro Processor Based, Servo Controlled and Automatic Compression Testing Machines Compression Testing Machines Series Compression Testing Machines are the finest of their types available.
Compression Testing Machine Electrically cum Hand Operated-Three Gauges
This is a hydraulic, electrically operated unit, designed for conducting compression tests on concrete specimens up to 20 cm. Diameter (or width and depth) and 30 cm, in height and also rocks and various other materials. Cold Crushing Strength test is also possible.

The machine consists of a steel cross head and cast iron base with two pillars connecting the base and cross head by means of nuts. The hydraulic jack is fixed to the base. The upper platen has got a self aligning action and is attached to a screw which passes through the cross head and can be raised or lowered for initial clearance adjustment. The lower platen rests on the jack ram and is positioned with the help of a centering pin.

Loading is accomplished by the upward movement of the with the help of a centering pin. Loading is accomplished by the upward movement of the motorized pumping unit is of plunger type and is connected to the jack by means of a steel connecting tube.

A maximum red pointer is provided to facilitate taking of the readings after failure of specimens. The pressure gauges of 20 cm diameter with isolating valves are fixed on the pumping unit at an angle for easy readability..

The machine is fitted with control which enables the rate of application of load to be varied. The machine is equipped with facilities for hand operation as well.

The electrical pumping unit is fitted with three micro switches one for each pressure gauge and will switch off the machine automatically as the load on the machine approaches its full capacity of the gauge in case the isolating valves are not operated. This will protect the pressure gauges and the whole unit so that in case of break down of power supply, the machine will stop and will not restart unless the starting switch is operated.

The machine satisfies the essential specifications of Indian Standard No. 516-1959. For operation on415 Volts, 3-ph or 230 Volts, 1-ph A.C.
Contact Us
Factory: 70, Edutek House, Main Road Vikaspuri, Industrial Area, Ambala Cantt, Haryana, 133006, India
Phone :09996644855