Chemical Waste Incinerator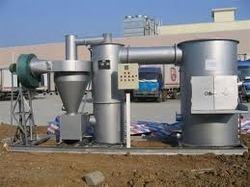 Chemical Waste Incinerator
Product Description
Chemical Waste Incinerator
Specifications of Chemical Waste Incinerator :

We offer a high quality of Chemical Waste Incinerator to our valuable customers. These products are used for effective disposal of chemical waste as per the emission standards decided by government. These products are manufactured using optimum quality raw materials that are sourced from reliable vendors. These products are designed to work with wide range of fuels. These systems can be customized as per the requirements of our customers.
The Chemical Waste is also a very dangerous waste for the Health and Life on the Earth. A Perfect Chemical Waste Incinerator can Incinerate almost all type of Chemical Waste as per the Emission Standard Decided by Government. We Design the Incinerators with Different Fuel for Incineration of your Chemical Waste. LDO, , HSD, Diesel, FO (Furnace Oil), LPG, CNG Natural Gas, Etc. can be used as Fuel of our Chemical Waste Incinerators. Our Design is proven and Running Successfully in Many Companies. Please Contact Us for Low Fuel / Fuel Efficient Chemical Waste Incineration System.
Features of Chemical Waste Incinerator :

Primary Chamber with 1 Fully Auto and 1 Manual Burner Assembly (With Fire Proof Bricks Lining.
Secondary Chamber with Automatic Burner (With Fire Proof Bricks Lining).
Venture Scrubber with SS Shower.
Scrubber with SS Shower for Wet Scrubbing.
ID Fan with SS Impellers.
Chimney with Ladder, Platform & Sampling Point.
Duct Line with Inside Lining.
Heavy Construction for Long Life.
Special Design as per your Chemical Waste and as per your Required Capacity.
Incineration as per Emission Standard.
Available for Liquid/Solid Chemical Incineration also in Special Application.
Also Available Small Size Lower Capacity Incinerators.
Specifications of Chemical Waste Incinerator :
Capacity: 10 Liters Per Hour to 5000 Liters Per Hour.
Impeller: Stainless Steel.
Fuel: LPG, CNG, Natural Gas.
Contact Us
Factory: 70, Edutek House, Main Road Vikaspuri, Industrial Area, Ambala Cantt, Haryana, 133006, India
Phone :09996644855