Cavitation Demonstration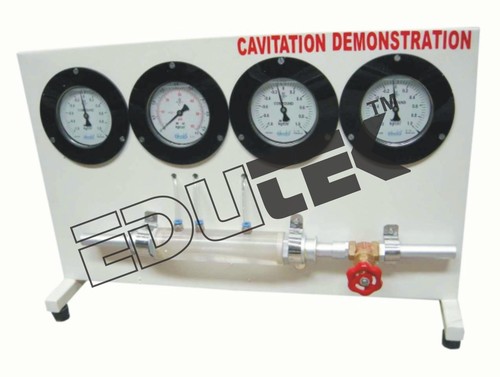 Cavitation Demonstration
Product Description
Compact bench top unit.
Designed to visualize and study the cavitation phenomenon in water flow.
The apparatus is consist of a venture shaped test section made of clear acrylic to enable visualization of formation of bubbles and subsequent collapse of bubbles in the flow.
The upstream section of the venturi connected to the hydraulic bench or to any suitable source of water.
Cavitation obtained by reducing pressure at the throat according to Bernoulli equation by varying the flow rate.
Flow control valves at the upstream and downstream ends of the test section should allow control of flow.
Specifications:
Piping system and quick release fittings, 15mm nominal bore, and stainless steel.
Turbine flow meter, 2 liters/s max. flow rate.
Instrument mounting panel.
Computer based learning software.
Contact Us
Factory: 70, Edutek House, Main Road Vikaspuri, Industrial Area, Ambala Cantt, Haryana, 133006, India
Phone :09996644855