Batch Crystallizer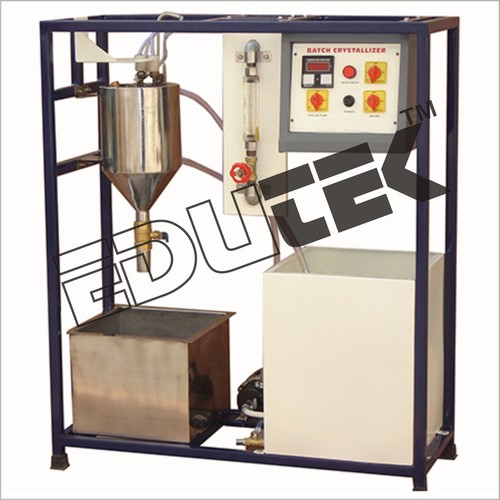 Batch Crystallizer
Product Description
Batch CrystallizerDESCRIPTION :
Crystallization is the formation of solid particles within a homogeneous phase of saturated liquid. Its wide use has a two-fold basis, a crystal formed from an impure solution is itself pure and crystallization affords a practical method of separating w. This operation involves both heat and mass transfer. Cooling type agitated batch crystallizer set up consists of an open jacketed stirred vessel provided with water heating & cooling arrangement. The feed is prepared in the crystallizer itself with hot water and stirrer. The hot saturated solution in the crystallizer is then cooled by circulation of cooling water and crystals are formed.

EXPERIMENTATION:
To study the performance of a Batch Crystallizer.
To determine the crystal yield and the efficiency of crystallizer.
UTILITIES REQUIRED :
Water Supply.
Drain.
Electricity Supply : 1 Phase, 220 V AC, 1.5 kW.
Required Chemicals.
TECHNICAL DETAILS :
Crystallizer (Jacketed Type): Material Stainless Steel , Cap. 2 Ltrs. with conical bottom
Stirrer : FHP, Variable Speed.
Heater : Nichrome wire heater
Cooling Water Tank : Material Stainless Steel , Capacity 30 litre fitted with Pump.
Flow measurement : Rotameter for cooling water.
Pump : FHP.
Receiving Tank : Material Stainless Steel , Capacity 2 litre with SS sieve
Temp. Sensors : RTD PT-100 type
Control panel comprises of Digital Temp. Indicator : 0-199.90 C with multi-channel switch and Standard make on/off switch, Mains Indicator etc.
Instruction Manual : An ENGLISH instruction manual will be provided along
with the Apparatus
The whole set-up is well designed and arranged in a good quality painted structure.
Contact Us
Factory: 70, Edutek House, Main Road Vikaspuri, Industrial Area, Ambala Cantt, Haryana, 133006, India
Phone :09996644855