Basic Hydrology Apparatus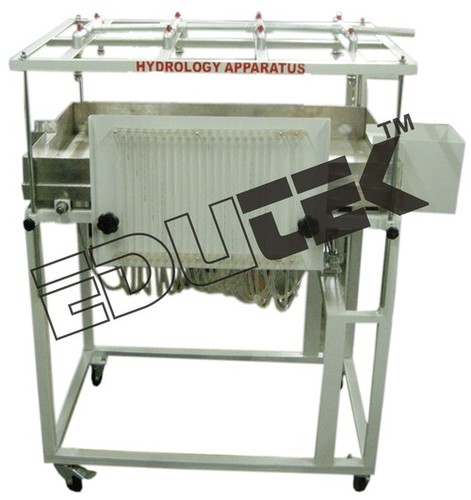 Basic Hydrology Apparatus
Product Description
BASIC HYDROLOGY APPARATUS

The apparatus is a self contained unit for studying basic hydrology. It consists of a large stainless steel rectangular tank with adjustable tilting mechanism. The tank is filled with a granular medium. Two separate sets of four spray nozzles above the tank simulate rain fall on the catchments. The tank upper walls are transparent. Valve control of the nozzles varies the lag time on the hydro-graph to simulate a moving storm. The compartments at each end of the tank are connected to the catchment area by wire mesh to allow flow between the compartment and the catchment. Two wells with valve control are also provided at the middle of the tank. Twenty pressure tapping along the orthogonal axes of the tank to measure water table profile by a manometer bank.

TECHNICAL DATA :

Tank : Stainless steel 100 cm wide x 200 cm long x 19 cm high.
Inclination : 0-3% .
End compartments : 2 ea.
Wells : 2 ea.
Spray nozzles : 8 nozzles with separate shutoff valves.
Flow measurement :

Rain water : Variable area flow meter.
Run off : Calibrated weir.
Manometer : 1 ea.
Upper walls : Clear acrylic.
Accessories : - Rectangular ring, circular ring, confined aquifer, cylindrical pier.
Power supply :- 220 V, 1 Ph, 50 Hz. Other power supply is available on request.
Contact Us
Factory: 70, Edutek House, Main Road Vikaspuri, Industrial Area, Ambala Cantt, Haryana, 133006, India
Phone :09996644855